Many home styles today feature an "open concept" layout. The open floor plan that seems to be everywhere is an often-requested update for homeowners thinking about remodeling. It almost always refers to a kitchen that opens to a dining area and a great room, usually eliminating the separate dining and living rooms of traditional home design.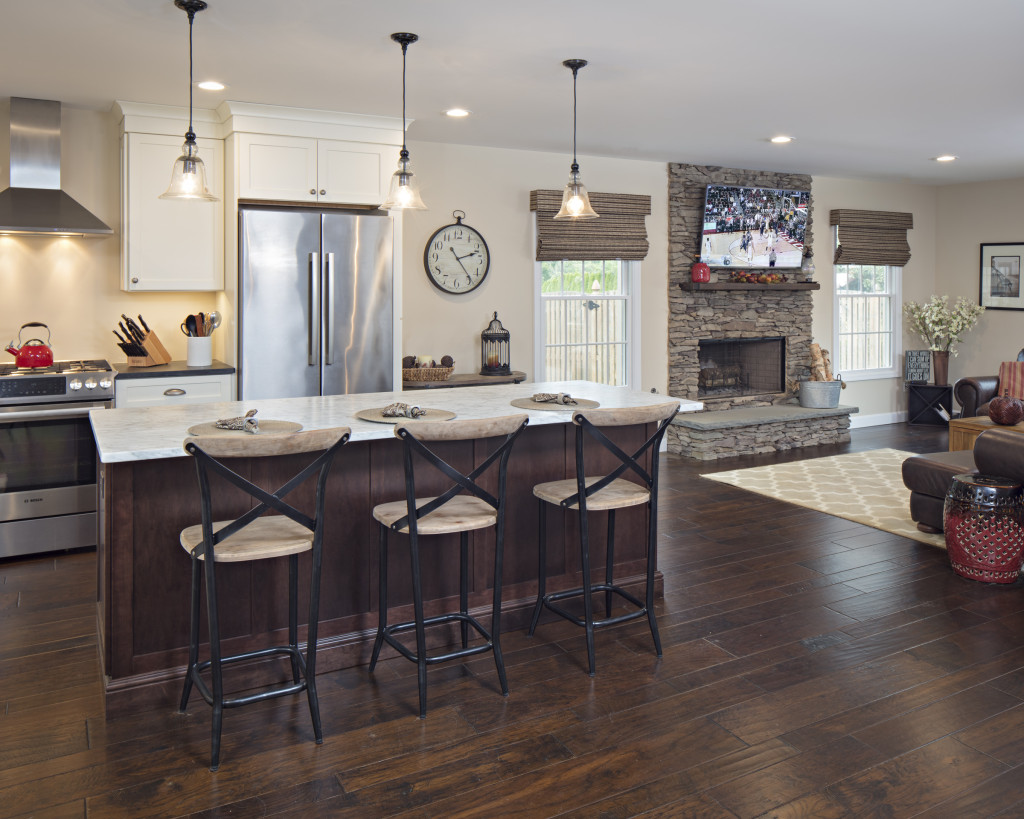 Does an open floor plan fit your lifestyle?
Open floor plans can be great for busy families and for entertaining. They are often light-filled spaces that allow you to cook and watch the kids or converse with guests at the same time. Move furniture around in whatever configuration you want.
But open floor plans are not a perfect fit for every family or lifestyle. They tend to have a contemporary vibe that may be jarring in a more traditional style home. Open interior spaces call for a well-coordinated décor plan and color scheme throughout the entire first floor of your home. You may have to rethink your current furniture too. The couch that was against a wall may not be the right scale for a prominent place in the center of a large great room.
Flexibility…or chaos
Before you start tearing down walls, there are some things about open concept homes that you need to consider. If you want to avoid a cluttered look, concentrate on adding storage solutions as part of the design process. When your areas for cooking, dining, and relaxing are all-in-one, there can be a lot of "stuff" out in the open for all to see.
Open shelving, large windows and eliminating upper cabinets is a great kitchen trend, but is it practical for you? You'll want to think twice about how much storage you'll really need to conceal the mess that comes with meal prep. Custom cabinetry can keep your counters clear but still workable. Built-in custom cabinets are also great in the family room for keeping electronics, their accessories, and lots of other items of daily life in check.
It's handy to have the sink in the center island, but if you don't want to display dirty pots piling up or a drying rack that's always filled with dishes, keep the sink out on the perimeter of the room. It's less likely to draw attention than when it's in the spotlight, front and center.
Life in the wide-open spaces
In a large family room, seating may be moved to the center of the room. Where do you plug in a reading lamp or keep the laptop charging while you work? To avoid tripping on extension cords that trail off to an exterior wall, plan your furniture layout carefully before remodeling starts. Recessed electrical outlet boxes can be installed flush with the floor surface near your seating.
Do you have a collection of family photos or fine art prints that you want to display? Before you tear down the walls, do an inventory of what you want to look at every day and make sure you have the wall space to accommodate it all.
Need to get away from it all?
Create visual or physical zones with area rugs, pendant light fixtures and furniture groupings. Add a bump-out nook with a window seat or room for a comfy chair and side table. Look at under-used space in other parts of the home, like a guest bedroom, that can be repurposed for a home office. A finished basement makes a great playroom, and a cozy attic getaway can be the perfect place when you need some quiet time.
Still have questions?
When we consult for a remodeling project, we ask a lot of questions and do a lot of listening. We analyze your needs and make suggestions based on real-world solutions and remodeling projects we've successfully completed for our satisfied clients.
So, if you're thinking of jumping on the bandwagon of open concept floor plans, or any trend you find intriguing, give us a call and we'll design what's just right for you and your family.