How to Avoid Countertop Confusion
There are always lots of choices to make when you're remodeling your kitchen ─  selecting appliance options, picking colors, and deciding on fixture styles and finishes. It can be fun making plans and imagining how it will look when it's all done. For many of the decisions, you just need to choose the look that you love. Others, such as kitchen counter material selection, can be confusing and require  research and expert advice. We can help with the information that will guide you to the choice that's best for your needs.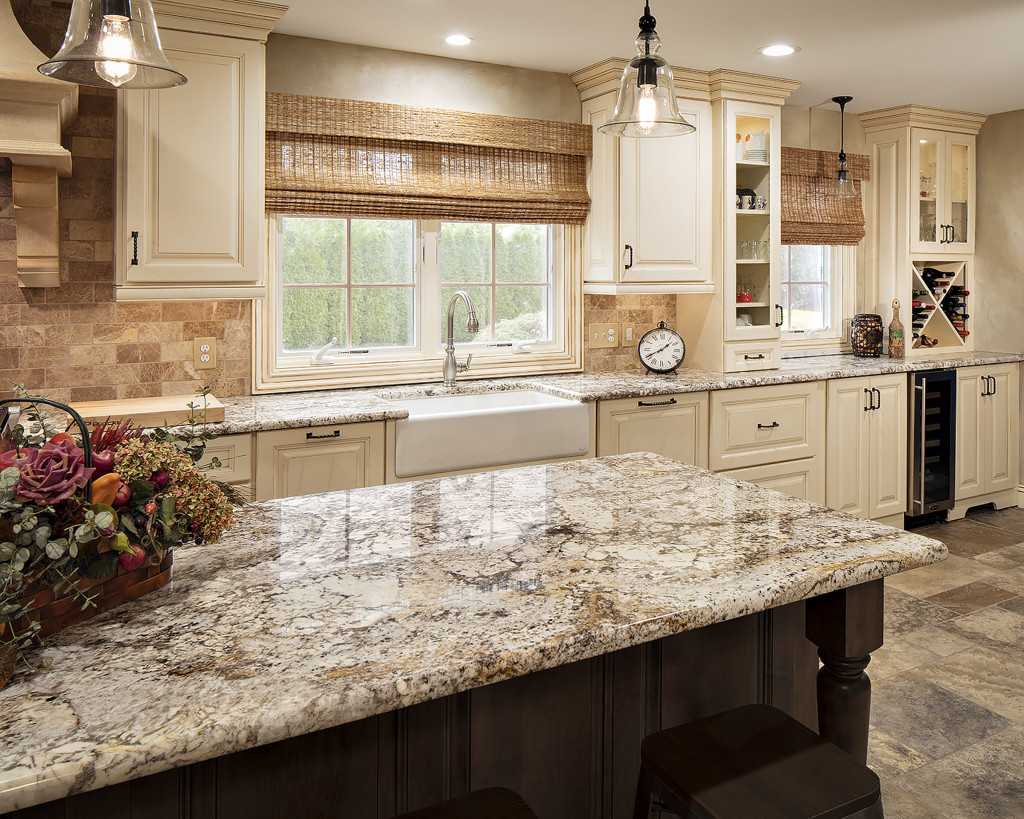 Granite
Granite is a popular counter surface, and for many homeowners is the first and only choice for their kitchen. It may or may not be what you need, however. While granite is a beautiful, durable, natural material, the fact that it's natural stone can be either a plus or a minus. The color and pattern will not be uniform from slab to slab or even within a single slab, and some people love it for that reason. Just make sure you choose the exact piece of granite you will buy and look at a template of your kitchen counter configuration positioned on the slab. That way you will know the vein pattern and coloration will meet your expectations. The cost per square foot of granite can vary greatly depending on factors like the stone's origin and color.
Engineered Quartz
Quartz is an engineered stone, a man-made material that is made up of 90-95% crushed natural stone mixed with resins and pigments. The material is tough, nonporous and resistant to stains and scratches. It requires less maintenance than granite and you can choose from a wide variety of colors and patterns ranging from subtle to bold. The downside for many people is that quartz has less color variation and individuality than a natural stone slab. But that also means that when you see a sample of the material, you can be confident of what your counter will look like. The production of quartz doesn't involve mining and shipping large slabs, so it is considered to be a more environmentally friendly choice than granite. Engineered quartz is often more expensive per square foot than many grades of granite.
Marble
Marble is a beautiful choice ─ a classic look that never goes out of style. You need to be prepared, however, to maintain it carefully and seal it regularly if it's your countertop choice. Marble is softer than granite and will stain and scratch easily. Homeowners who love to bake often use it for a small baking station because its cool surface is perfect for pastry-making.
Looking for Something Different?
Soapstone is a very dense natural stone that is impervious to heat, stains and bacteria. The color is limited, however, to medium-to-dark gray. Its higher price tag makes it an investment-grade surface that will last for years.
Natural wood is lovely, warm, and completes the look of a farmhouse kitchen, but requires proper sealing and quick attention to spills. If you'd like less upkeep, try a small butcher block area that can be refinished if it is damaged during food prep. It's also nice for a "breakfast bar" on the island or a butler's pantry counter that won't be subjected to as much hard use as the area around the sink.
If you want a unique look and don't mind extra maintenance, there are other out-of-the-box ideas for kitchen counter materials.
Stainless steel gives the look of a professional chef's hardworking kitchen and is heat resistant but isn't for you if you are bothered by fingerprints, water marks and scratches. Concrete has a modern industrial vibe and is very customizable. It's extremely durable but can develop hairline cracks and needs to be properly sealed so it won't stain. Glass counters made from post-consumer recycled glass mixed with concrete and pigment are an eco-friendly choice. It's a colorful and durable material but you'll need to keep it sealed and be very careful with knives and harsh abrasives which will damage the surface.
We're here to help you decide what countertop material is best for you, your lifestyle and your budget. We'd love to talk about your kitchen remodeling project!